---
GoScopia.com - Find and book door-to-door: Nearest airports, rail, bus, taxi and shuttles to any place worldwide: Click to visit http://goscopia.com/#!info.blog,35 instead of this crawler friendly version
---
So You've Been Everywhere? Try Our Hometown - Milwaukee!

Well, I do believe it is high time I wrote a few words about GoScopia's home town of Milwaukee, Wisconsin in the United States. Yes, as a tourism destination. No, I am not kidding. If you're planning to visit Chicago or anywhere nearby, a weekend in Milwaukee or a few days in the middle of the week can be quite an interesting detour. Milwaukee isn't one of those places most people think of when they plan their trip to America but once you are here, you'll discover it's just "like a box of chocolates. You never know what you're going to get."
The Milwaukee River is a destination in itself.Photo courtesy University of Wisconsin - Milwaukee
There are two major airports closest to Milwaukee. One is General Mitchell International Airport which is located just south of Milwaukee and is mostly a domestic airport aside from a daily scheduled flight to Toronto. The major regional airport with international flights is Chicago's O'Hare Airport, about 90 minutes to the south of Milwaukee.
Getting to Milwaukee from either airport and even from Downtown Chicago is easy and no car is needed. From both Mitchell and O'Hare airports, there are taxis, shuttles, limousines and scheduled airport buses. Public transportation is available at Mitchell Airport through Milwaukee County Transit System (MCTS) which operates route 80 that goes straight from the airport to downtown Milwaukee. The bus trip takes about 30 minutes and costs about US$2.50, which is a lot less than taxis or limousines.
From downtown Chicago, Amtrak rail operates a few trains a day straight to the Milwaukee AIrport and then onto downtown. The ticket costs about US$22 each way and is a very convenient way of getting from downtown Chicago to downtown Milwaukee. The final stop is the Milwaukee Intermodal Station where trains, buses and taxis all meet in one place. If you really want to go cheap, there's always Megabus - Round Trip, Wireless, Double Decker bus tickets starting at $1!
Yes, you read right. starting at US$1.
Milwaukee's Intermodal Station downtown, the final stop for Amtrak's route from Chicago.

Photo courtesy of the Wisconsin Department of Tourism.
Once you've arrived in Milwaukee, check out some of the fantastic hotels we have downtown as well as in other areas and suburbs. One hotel you should certainly consider is the Iron Horse Hotel which is really something very special.
So what can you do in Milwaukee that would be fun, exciting, educational, relaxing or all of the above? A good place to start is the website OnMilwaukee.com which lists 100 things to do in Milwaukee. But it really depends on what you like to do and the season of your visit.
In the summer, (mostly July and August), Milwaukee is blessed with fantastic weather and is filled with outdoor festivals. Many of the festivals are ethnic, such as Festa Italiana. You can find a list of festivals taking place in Milwaukee by clicking here. But by far, the largest and most famous one of them all is Summerfest which takes place at the end of June. Hundreds of thousands of people come from across the USA to see dozens of famous bands with shows going on continuously throughout the festival.
Aside from the festivals, you probably also know that Milwaukee is home to the famous Harley Davidson Motorbike Company and they have quite a neat museum to visit. There's also the Milwaukee Art Museum which displays rather interesting works of art from around the globe and throughout history.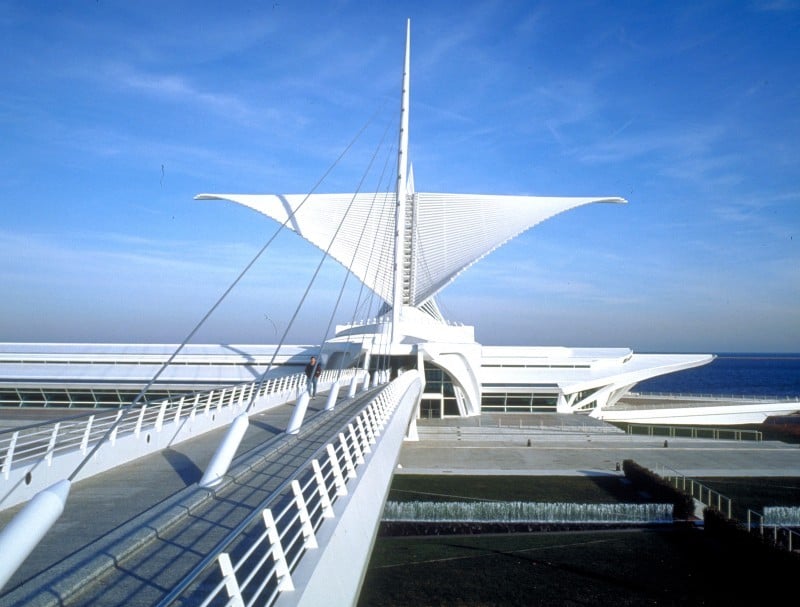 The Milwaukee Art Museum. Just as interesting and beautiful on the outside as it is on the inside.
Photo courtesy of the Wisconsin Department of Tourism.
Of course, Milwaukee has so much more to offer visitors. Try the Milwaukee County Zoo (second largest in the USA), catch a show at the Milwaukee Ballet, go bowling, see a baseball game with the Milwaukee Brewers or a basketball game with the Milwaukee Bucks. Of course, there's always the great food to be found in our town with something for every taste. And, last but not least - tons and tons of beer to cheer up any soul.
For more information, visit the Wisconsin Department of Tourism website or, if you need some personal advice about visiting Milwaukee, don't hesitate to send me a quick email and I'll be glad to send back some ideas. Welcome!